We are thrilled to announce that the Claremont Library is getting a refresh! The space will be outfitted with a new accessible public washroom and revitalized library space to better serve the needs of the community.
Construction will begin on Monday, May 29, 2023, and is expected to take 8 to 10 weeks. The Claremont Library will close on Wednesday, May 24, 2023, and during construction, the pop-up library will be relocated to the Lions Meeting Room within the Dr. Nelson F. Tomlinson Community Centre. 
Temporary Pop-Up Library
Hours of the temporary pop-up library will remain the same as existing Claremont Library operating hours. 
Services available:
Holds pick-up (at the pop-up station or via curbside pick-up)
In-person staff assistance
Limited collections will be available for browsing and borrowing
Limited seating
Return drop box
Claremont Storytime will be temporarily moved to the gymnasium as of May 25 (no changes to the existing schedule)
Services not available:
Public computers
Printing and photocopying
Exterior drop box
We regret some services must be disrupted during this construction period. We invite residents to check out the Central Library or George Ashe Library for services that may be temporarily unavailable at Claremont. For location hours and details, please click here. Our digital library is also open 24/7 and offers a wide variety of e-resources to explore.
Although the exterior drop box will not be available during the construction period, returns will be accepted at the pop-up library during operating hours and in the designated bin outside the fire hall (located near the garage doors). Can't access the pop-up before your due date? Don't worry! The Pickering Public Library does not charge late fees!
Follow the Progress!
This project is an exciting new chapter for our Claremont location and we want to share it with you. As the refresh gets underway we will share progress updates here. Be sure to check back to see the journey!
Claremont Library, May 2023: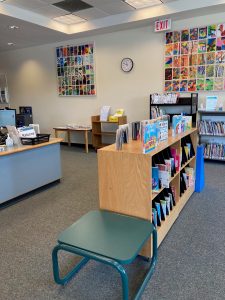 Did You Know?
The community's input is very important to the changes happening at Claremont Library! Volunteer community members from the Claremont Library Collaborative have been working with staff to explore community input generated across a variety of community engagement activities, and to provide ongoing feedback as the Claremont Refresh takes place. Want to learn more? Check out pickeringlibrary.ca/clc for information.
Acknowledgments
As part of this renovation, the in-library washroom is being updated into a more accessible facility for all clients to use. This has been made possible with funding from the Province of Ontario.
The Library would like to express our appreciation to the Claremont Lions Club for generously providing their meeting room space for a temporary pop-up so that some library services can continue to be available for the community throughout the construction period.